About Us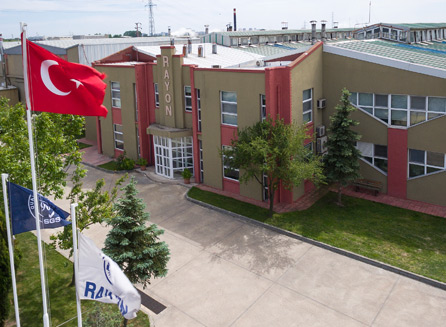 Established in 1989, Rayon Tekstil is basically involved in the production of woven and knitted fabrics for active sportswear, outerwear, military wear and technical textiles. In order to meet increasing demand of our customers, in 1996, dying and finishing plant has been opened in Çorlu, Tekirdag.
Following a sustainable growth, new production lines have been installed with state of the art technology machines on coating (blade coating), rotary printing, laminating and knitting, to provide extensive solutions to the market in technical textile and functional fabric requirements.
Rayon Tekstil is focused on the production of synthetic fabrics, produced with polyester, polyamide (6 and 6.6 HT) and blends with synthetic yarns-cotton, as polyester cotton, polyamide cotton. Product portfolio includes many stretch fabrics with elastane as well.
We offer our customers a wide range of woven and knitted fabrics, paying special attention to a sustainable development and customer satisfaction.
With a steady growth, Rayon Tekstil continues its investments in human resource and in modernization of its production lines. Thanks to these primary components, today Rayon Tekstil expertised products achieved a considerable reputation in textile sector both in local and export markets
In house dyeing, printing, finishing, coating, lamination lines are equipped with latest technology that are controlled by automated raw-material input and optical monitoring systems which run through a unique computerized quality control system. Every single batch is quality assured in physical and chemistry labs serving 24 hours a day.
With its specially designed production lines and experienced engineer teams; Rayon Tekstil is able to achieve highest standards through science, innovation and expertise.
With a daily production capacity of 120,000 meters of woven and 10,000 kgs of knitted fabrics, Rayon Tekstil is able to offer delivery within very short period of time.